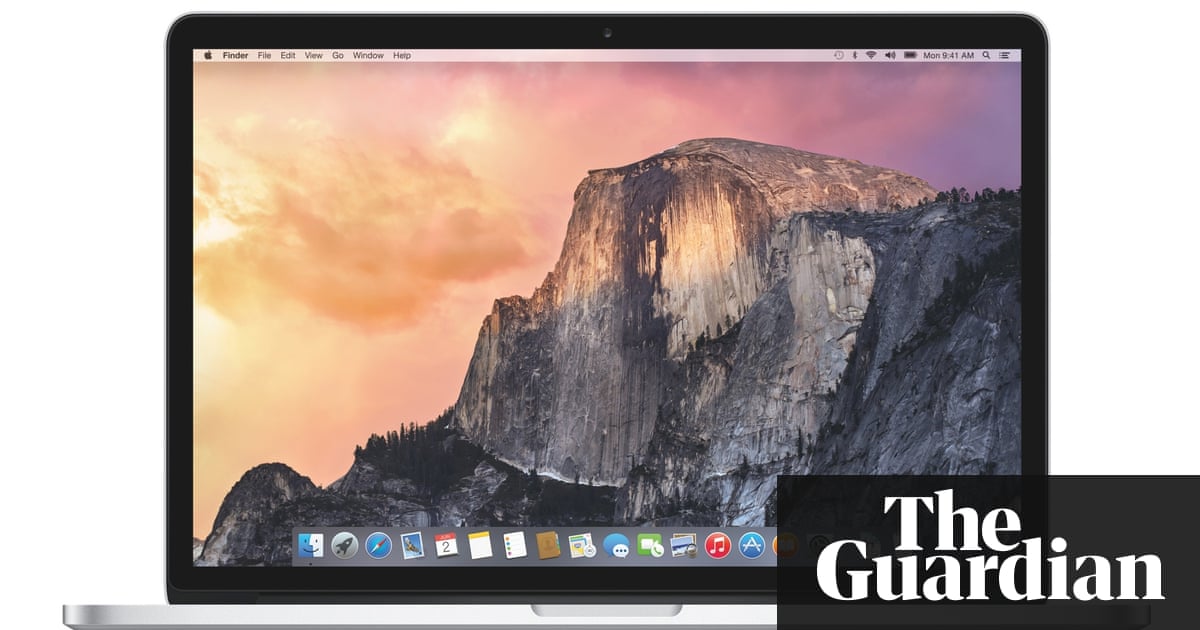 . 1 N ew Spotlight Search

Spotlight received a major overhaul with Apple's introduction of OS X Yosemite, making it more powerful and useful than ever before. Press Cmd + Space and the new Spotlight search bar will appear on the screen. As in the previous version, it is possible to search your files in real time, but what is really useful is that currency conversions, simple calculations, and word or phrase definitions are now performed. In addition, the search features provide an interactive preview that lets you do all sorts of things – send emails, make phone calls – right in Spotlight.
. 2 Sign your name with the trackpad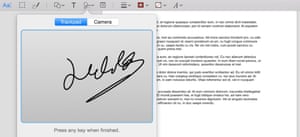 If you want to write your signature in a text document at the bottom of an email or even overlay it on an overlay image, you're lucky. Preview now has a feature that allows you to scribble your signature using your laptop's touchpad (or external touchpad). For example, suppose you want to sign a document in PDF format. First open the PDF file with preview. Then click on the Toolbox icon in the upper right corner. A new markup toolbar is displayed. Now click on the sign icon, which looks like a small signature and is next to the text symbol. Click Create Signature and follow the instructions on the screen
3. Dark Mode

Yosemite has a dark mode that you can access by enabling the "Use dark menu bar and dock" check box in System Preferences> General. This significantly changes the look of Yosemite. The menu bar and its drop-down menus will now have a dark, slightly translucent charcoal color. Almost every app you use now has dark menus. The dock will also be much darker, but like the menu bar it retains some of its translucency. This is a great feature that can help combat excessive glare from your screen, and it also looks pretty good.
. 4 New Maps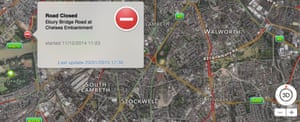 Apple Maps is still inferior to Google Maps in many respects, but after recent updates, it might be worth taking a look at what's on offer. The most useful feature is the traffic option. Open Maps and click the menu at the bottom left of the screen before clicking Show Traffic. You will now receive live traffic updates on many major roads in the UK, including road closures and road maintenance. There is also a 3D mode. Click the 3D button in the center of the compass in the lower right corner of the screen and the viewing angle will be tilted. For the best effect, you should also click on the satellite button in the upper right corner. Important sights and buildings can now be seen in 3D. Are you looking for a big city? London, and a 3D overflight button is displayed. By clicking on the button, an impressive bird's eye view of the city is offered.
. 5 Renaming large groups of files

Although this feature is small, it is a fantastic time saver. If you have ever had a large number of files that you want to rename, you will know that it can be tedious to click on each file and enter the new names one at a time. In Yosemite it is possible to rename these files en masse. Click, drag, and select the files you want to rename, right-click your selection, and click Rename X Elements, where "X" indicates the number of files you have selected. This opens a window with a list of naming options. From here, you can completely replace the text, add text before or after the original file name, or format the text in different ways. For example, you can index any file and / or add a custom name. Let's say you've selected fifty image files and want to rename them to Photo 1, Photo 2, and so on. Just select all fifty, set up a name and index format, and Yosemite will fill in the rest for you.
. 6 Disconnect from a network without turning off Wi-Fi

Holding down the Alt key while clicking the Wi-Fi icon in the upper-right corner of the menu bar turns one List of additional options displayed information. One of these options allows you to disconnect from a network without having to shut down the WLAN completely. This is useful if you want Wi-Fi networks to remain discoverable, but for some reason you do not want to be connected to the network you are using. In previous versions of OS X, you could only turn Wi-Fi on or off using the menu bar, with additional controls or information that forced users to sift through system settings, which was both annoying and slightly annoying. The menu also contains useful technical information about the network you are connected to, such as: Router security, IP address, PHY mode and country code.
. 7 Quick Type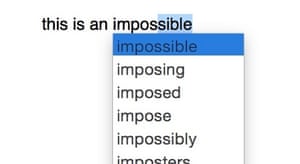 Quick Type, which was recently implemented in Apple's mobile platforms, is also included in Yosemite. For initiates, Quick Type suggests words or phrases that you're likely to type next, based on your previous conversations and your writing style. Each time you enter an application created by Apple, for example: For example, Pages, you can press the Escape key halfway through the word or phrase. This will display a list of options where you can select the correct one. This may or may not increase your typing speed, it probably requires a bit of getting used to before it gets really helpful, but it's nice to see some iOS 8 features on the desktop.
. 8 Close Safari Tabs on Other Apple Devices

Yosemite and iOS 8 saw the advent of much more connectivity between your Apple devices, which Apple called "continuity." When you open Safari on your Mac, the "Show All Tabs" icon appears next to the New Tab button in the upper-right corner. Clicking Show All Tabs displays the tabs you have open on your Mac. However, if you also have an iPhone or an iPad, you'll see all the tabs you've opened on those devices. It works the other way too – all tabs opened on your Mac can be viewed on your iOS device. This feature essentially gives you a very limited remote for your Mac, iPad or iPhone. Perfect if your borrowed iPad has sensitive or embarrassing websites open and you were not sure if you closed them or if you would like to continue browsing where you left off on another device [19659007] 9. New RSS and Search Functions in Safari

Photo: screengrab
RSS feeds (Rich Site Summary or Really Simple Syndication) are now especially enjoyable and intuitive in the latest version of Safari, which was part of the Yosemite update. Click on the RSS feed you want to subscribe to and Safari will ask if you want to add it to the "Shared Links" page. Click Add, and then click the Sidebar icon in the upper-left corner of the browser next to the Next and Previous buttons. From here, you can click the @ icon and watch all your feeds, including the stories shared by your friends on social media that have been available since Mavericks. Click the Subscriptions button below to manually add or remove feeds. Although functionality is limited, there are some people who do not need anything more sophisticated, which means you may not need third-party feed readers if you do not need anything special.
10 . Mail Drop

Mail Drop lets you send large email attachments by uploading your content to iCloud. Just drag the file you want to attach. If you have enough space in the cloud, you can send files far beyond the limit of your e-mail client. If the recipient also uses Yosemite, it will be displayed as a normal attachment (although it is actually in the cloud). If the recipient does not have Yosemite, they will instead receive a link to download the attachment.
. 11 Record your iPhone screen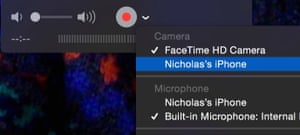 If you ever wanted to record your iPhone's screen, this is the easiest and fastest way to do it. First, you need both the latest version of Yosemite and iOS 8. Next, connect your phone to your Mac with a lightning cable. Then open QuickTime and select File> New Movie. You should now present your own face, as Yosemite is set by default on your front camera. To change this, click the down arrow next to the red record button and change the camera from FaceTime HD Camera to your iPhone. If you now press the recording, you will record the screen of your iPhone.
12th Share Your Screen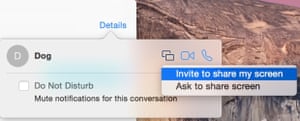 Sharing your screen is child's play in Yosemite, provided you and the person you want to share use the Apple News app. Open the message window of your contact and select the Details button in the top right corner. In the new window you will see a sharing icon next to the FaceTime and Call icons. Click the icon to share your screen, and a request will be sent to your contact, which you can either specify to share your screen or get access to it. This is very useful if you are trying to show someone how to solve a problem he has with his Mac or where he can find certain hidden settings.
. 13 Answer and talk to your Mac

If someone calls you on your iPhone, you can accept the call on your Mac if you're using iOS 8 and have the latest version of Yosemite installed. This is another component of Yosemite Continuity that lets you seamlessly connect all your Apple devices in a variety of ways. If you can not receive calls on your Mac despite the latest version of iOS and OS X, make sure you're signed in to the same iCloud account on all devices. You must also be connected to the same Wi-Fi network and logged into FaceTime. Wi-Fi calls must also be disabled on your phone. If you have it, you can find it under Settings> Phone. Making a call is as easy as answering a call. Just open your contacts folder and click on their phone number. If you find that all too intrusive, you can stop calling from your Mac by opening the FaceTime app and clicking FaceTime> iPhone Phone Call Settings and Selection.
14 . Muting Messages in Yosemite
Here's another feature that was first made available on iOS on iOS. If you still want to be notified about messages, but do not want a specific person bothering you all the time, you can now mute individuals rather than just a comprehensive Do Not Disturb mode. To access it, open the Messages app, double-click the person you want to mute, click the Details button in the right corner, and select the Do Not Disturb box.
15 . Add Widgets to the Notification Center

The Notification Center now has widget features, such as the widgets in the Notification Center on the iPhone or iPad in iOS 8. On your Mac, click the three bullets in the top right corner of your menu bar, and then click Edit at the bottom of the sidebar that appears. From here you can add or remove widgets that you already have installed on your system. You can also quickly access the App Store at the bottom of the screen where you can browse, buy, and install more widgets.
16 . Sending and Receiving SMS Messages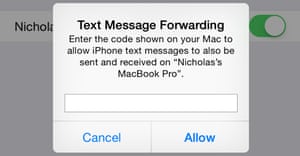 Thanks to Continuity, all SMS messages you receive on your iPhone can also be read on your Mac, even if the person you are sending SMS to does not Apple device owns. In addition, you can also use the same feature to send text messages from your Mac. Make sure you have the latest version of iOS and that you are signed in to iMessage on your iPhone. You must also be logged in to your phone and your Mac with the same Apple ID. Pick up your iPhone and go to Settings> Messaging> Send & Receive> You can be reached by and make sure your email address and phone number is selected. Go back to Messaging and under SMS forwarding, select the device you want to use. After entering a security code, you should be able to send and receive text messages from your messaging app on your Mac.
17th Annotating Images or PDFs in Emails
If someone has sent you a PDF file or image attached to an email, you can comment it now without leaving Apple Mail. To do this, make sure that you have selected "Add original attachments as a reply" by choosing Edit> Attachments from the Mail bar's menu bar. Now that this is activated, click on "Reply" and move the mouse pointer over the image or PDF. A small arrow appears in the upper right corner. Click on this arrow and select Markup. It opens a new window where you can add lines, boxes, text, even your own signature to the PDF / Graphic. When the annotation completes, click Done before returning your new version to the sender.
18 . Private Browsing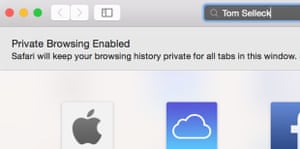 Another great new feature in Safari allows you to set DuckDuckGo (a search engine that claims not to track you) as your default search engine. Click Safari> Preferences> Search and set up your search engine on DuckDuckGo if you want to enable it. While we're talking about privacy, it's worth noting that Private Browsing has changed a bit now. Previously, private browsing was either enabled or disabled. Now you can open both a private window and a normal open window. This is a feature that has been available on rival browsers for years. So it's nice to see that she finally arrives on Safari.
19th iCloud Drive
iCloud Drive works much like DropBox, so you can store your documents, music, photos, videos, and many other apps and files on Apple's own file hosting service. This is very useful if you like to work across multiple devices and provide a good way to back up your files. iCloud Drive is by default in Favorites in your Finder window. Saving your files in the cloud is as easy as dragging and dropping them into the folder. You can also save directly from most Apple apps to the folder. All users get 5GB of storage space completely for free with up to 1TB of storage for a monthly fee.
Source link