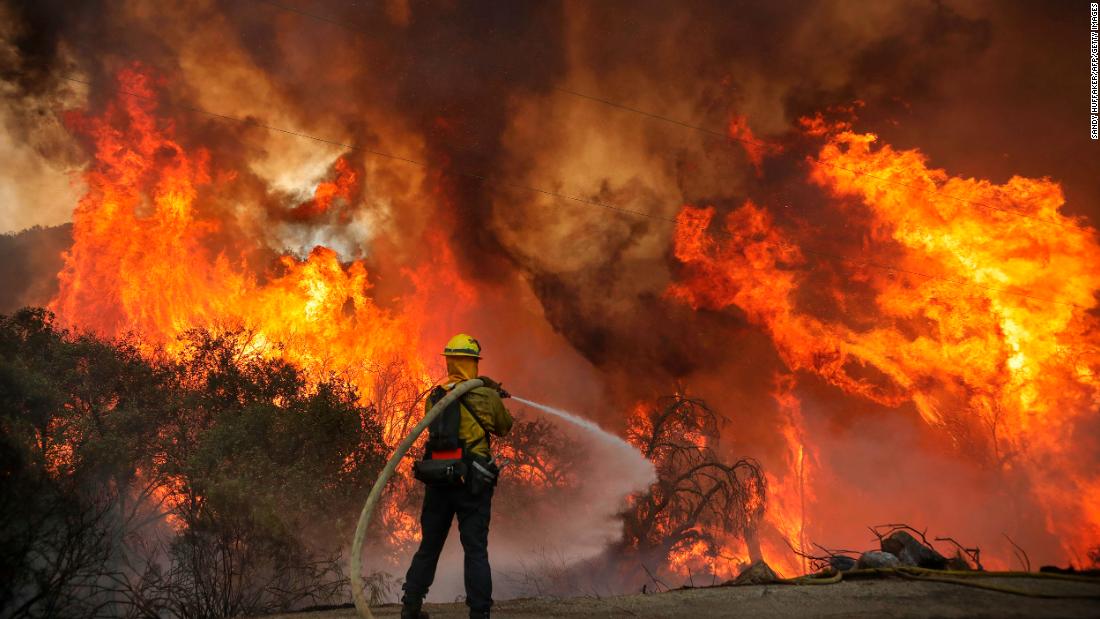 The state of emergency applies to the districts of Fresno, Madera and Mariposa, in which the Creek Fire is burning, and to the districts of San Bernardino and San Diego, in which the El Dorado Fire and the Valley Fire are raging. This comes from a statement by the State Office of Emergency Services (Cal OES) said Sunday night.
Tens of thousands of acres were burned by the three fires that also destroyed homes and evacuated thousands of residents, according to the Cal OES statement.
Dangerous flames fueled by high temperatures and dry conditions resulted in a massive airlift that saved dozens of people on Saturday night. They had been celebrating the vacation weekend at Mammoth Pool Reservoir when a wall of flames from the Creek Fire blocked the roads in Maderas County, trapping them.
More than 200 people were flown from the campsite by a Chinook and Blackhawk helicopter, Cpl. David Hall of the California National Guard said during a news conference on Sunday.
The rescue operation began late Saturday and was completed around 1
:30 a.m. on Sunday, he said. Rescue workers decided to load as many people as possible on board on the second run to the campsite as the weather conditions worsened.
"In this second round – when it was more important to get everyone out – it was important that everyone got dressed, made sure what they could, and then everyone else sat on the floor," he said. "We don't like to work like this, but given the circumstances that this is an urgent, life-threatening situation, the pilots and command made a wise decision by asking them to get on the helicopter and as many as possible to load into this lift. ""
Hall said two people were seriously injured and 19 evacuees were injured less.
The fires have burned thousands of acres
The Creek Fire in the Sierra Nevada Mountains burned 45,500 acres and remained at 0% containment early Monday morning, according to the Cal Fire website. The fire started northeast of Shaver Lake on Friday night and the cause is still being investigated.
The Valley Fire in San Diego County, southeast of Alpine, has burned 9,850 acres since Saturday began and is 1% contained, Cal Fire told San Diego in a tweet late Sunday night. Eleven buildings were destroyed in the fire and evacuations were ordered in the region.
In San Bernardino County, the El Dorado fire, which began with a pyrotechnic device during a gender reveal, scorched 7,050 acres and is 5% containment.
There are also several lightning complex fires across the state, covering more than 850,000 acres between the SCU, CZU, and LNU lightning complex fires.
Records broken across the state
This devastating year is the worst in California history, measured by the number of mornings burned. The state broke its record for nationwide burned land on Sunday with 2,094,955 acres of Cal Fire Capt. Richard Cordova told CNN.
"This is crazy. We didn't even get into the fire season in October and November and we broke the all-time record," said Cordova.
"It's our business because we need to get these firefighters off these lines and give them a break from fighting these forest fires," he added.
A national fire potential outlook for September and October issued last week by the National Interagency Fire Center (NIFC) predicted a dramatic increase in fire activity in the west due to weather conditions. The report states that several multi-day heat and lightning events occurred in conjunction with wind-fired and ignited fuels that had become critically dry in California.
At least 10 heat records were cut this weekend, according to a warning from the National Weather Service.
It was the hottest in more than half a century, with seven more records being broken in various parts of the state on Sunday in the 1950s.
In Los Angeles County, where at least two fires are still burning, Sunday temperatures in Woodland Hills hit a record 121 degrees. The Los Angeles National Weather Service also reported a high of 117 degrees in Paso Robles, the highest ever measured in San Luis Obispo County.
CNN's Jaide Timm-Garcia, Susannah Cullinane, Alta Spells, Artemis Moshtaghian and Paul Vercammen contributed to this report.