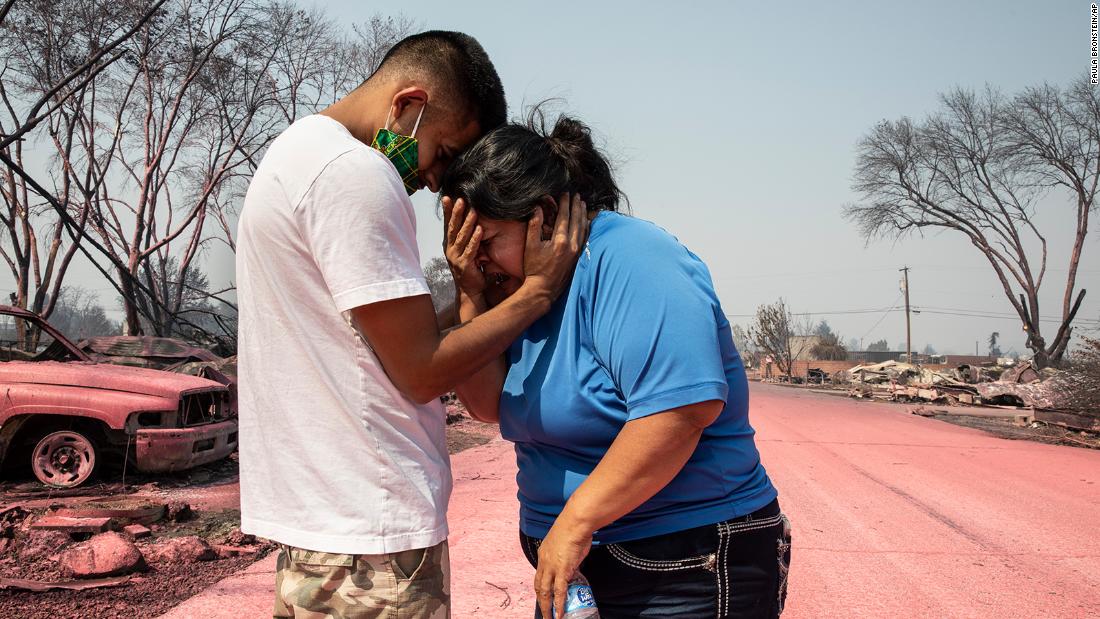 Dora Negrete is comforted by her son Hector Rocha after seeing her destroyed mobile home on Sept. 10 after wildfires ravaged the Talent, Oregon region.
This aerial photo from a drone shows a RV park destroyed by fire in Phoenix, Oregon on September 1

0th.
A road is shrouded in smoke from forest fires on September 10th in West Linn, Oregon.
A Coulson 737 fire fighting tanker drops fire retardant on Sept. 10 to slow the Bobcat fire in the Angeles National Forest north of Monrovia, California.
The Transamerica Pyramid and Salesforce Tower overlook Columbus Avenue in San Francisco and are covered in smoke from nearby forest fires on Wednesday, September 9. This photo was taken late in the morning.
On September 9, devastating smoke hangs over the San Francisco-Oakland Bay Bridge.
Bejhan Razi, a senior construction inspector in Mill Valley, California, checks repairs to a lamppost clock while the sky is lit by nearby forest fires.
People stand in Alamo Square Park as smoke hangs over San Francisco on September 9th.
People stop to take photos of the Golden Gate Bridge, which was hit by smoke from nearby wildfires on September 9th.
Firefighters cut lines of defense and minor misfires to protect structures in Butte County, California on September 9.
Flames shoot out of a house in Butte County.
A Pacific Gas and Electric employee looks up at the advancing Creek Fire near Alder Springs, California on Tuesday, September 8.
Lisa Theis unloads the last of her 44 alpacas after clearing her ranch in North Fork, California.
Flames burn in a home that was leveled by the Creek Fire in Fresno County, California.
A slide is melted in a school playground in Fresno County.
Fireman Nick Grinstead is fighting the Creek Fire in Shaver Lake, California on September 7th.
A firefighter in Jamul, Calif. Battles the Valley Fire on Sunday, September 6th.
On September 6th, a fire burned on Japatul Road in Jamul.
Little League baseball players warm up for a game near Dehesa, California while the Valley Fire burns on September 6th.
A firefighter watches the advancing Creek Fire in Shaver Lake.
A Shaver Lake business owner walks next to kayaks he is renting when smoke from the Creek Fire fills the sky on Sept. 6.
Family members comfort one another as the El Dorado fire draws closer to their home in Yucaipa, California on September 6.
A firefighter sets up a controlled burn with a drip torch while fighting the creek fire in Shaver Lake.
Dozens of evacuees will be brought to safety in a California National Guard helicopter on Saturday, September 5th. The Creek Fire had stranded her on a popular campsite in the Sierra National Forest.
Firefighters line up in Yucaipa on September 5.
Haze and smoke blanket the skies near Naches, Washington as the fire burns in Evans Canyon on September 3rd.
California Governor Gavin Newsom (right) listens as Santa Cruz State Park Superintendent Chris Spohrer talks about the fire damage at Big Basin Redwoods State Park.
Randy Hunt is packing up his belongings, including his daughter Natasha's first Pooh bear, which he and his wife Sheli had to vacate their rented home in Middletown, California on August 26th.
Fireman Juan Chavarin pulls down a burning log in Guerneville, California on August 25.
A sign reading "Vaca Strong" adorns a charred hill in Vacaville, California on August 24th.
Austin Giannuzzi cries as he hugs relatives by the burned remains of their Vacaville home on August 23.
A firefighter looks out of a helicopter as he tackles the LNU Lightning Complex fires in Lake County, California.
On August 23, the flames of the LNU Lightning Complex leap over Butts Canyon Road in Lake County.
Karol Markowski of the South Pasadena Fire Department hoses hot spots in Boulder Creek, Calif., Aug. 22 while battling the CZU Lightning Complex fires.
A burned-out vehicle stands outside a ruined residence as smoke fills the sky in Boulder Creek on August 22.
There is smoke in the air at Big Basin Redwoods State Park, while some redwoods are burning in Boulder Creek on August 22nd.
A firefighter observes the LNU Lightning Complex fires that spread across Napa County's Berryessa Estates on August 21.
Veterinary technician Brianna Jeter comforts a llama who was injured in a fire on August 21 in Vacaville. On the right, animal control officer Dae Kim is preparing to put the llama to sleep.
Smoke from nearby forest fires hangs over San Francisco on August 21.
A firefighter monitors the advance of a fire in Boulder Creek on August 21.
U.S. Forest Service members discuss their next steps to combat the Grizzly Creek Fire near Dotsero, Colorado on Aug. 21.
On August 21, people were packing lunches at an evacuation center in Santa Cruz, California.
A puff of smoke from the LNU Lightning Complex shoots over Healdsburg, California on August 20.
A firefighter battles flames in Santa Cruz County, California on August 20.
On August 20, only burned houses and vehicles are left in the Spanish Flat Mobile Villa in Napa County, California.
Peter Koleckar reacts after burning down several houses in his Bonny Doon, California neighborhood on August 20.
On August 20th, a forest burns in Bonny Doon.
A man looks at a tree that blocks his path after a fire ravaged Vacaville, California on August 20.
A melted plastic fence lies on the charred ground after a fire swept through Vacaville on August 20.
Sarah Hawkins searches the rubble after her Vacaville home was destroyed on August 20th.
Firefighters maintain a backfire on Aug. 19 to control the river fire near the Las Palmas neighborhood of Salinas, California.
Gina Santos cries in her car after evacuating Vacaville on August 19th.
On August 19th, people drive cows down Pleasants Valley Road in Vacaville.
On August 19, flames devour a house in Napa County, California.
Embers burn along a hill above Lake Berryessa as the LNU Lightning Complex burns across Napa County on Aug. 18. This picture was taken with long exposure.
A resident runs into a house to rescue a dog as the flames of the Hennessy Fire close near Lake Berryessa on Aug. 18.
A house burns when the LNU Lightning Complex burns down the Spanish Flat community in Napa County on August 18.
An air tanker drops retarders in a fire in Napa County's Flat town in Spain on Aug. 18.
The flames of the Hennessy Fire consume a cabin at the Nichelini Family Winery in Napa County on August 18.
Tony Leonardini is working on a point fire as storm winds fan the Napa County's Hennessy Fire on August 17th.
Smoke from the Grizzly Creek Fire is thick in Glenwood Canyon near Glenwood Springs, Colorado on August 16.
Kathy Mathison looks at the still smoldering wildfire on August 16, just yards from her home in Bend, Oregon just the day before.
Firefighters contemplate smoke and flames rising from the Ranch2 fire in the San Gabriel Mountains east of Los Angeles on Aug. 14.
A helicopter drops a drop of water over the Ranch2 fire in Azusa, California on August 13.
A car is charred on August 13th by Lake Fire near Lake Hughes, 60 miles north of Los Angeles.
A couple observed the Ranch2 fire from afar on August 13th.
A fire team is working in Lake Hughes on August 13th.
The Lake Fire burned a house in the Angeles National Forest on August 13.
Flames and smoke from the Lake Fire will rise on Wednesday August 12th.
A firefighter works against the Lake Fire on August 12th.
Firefighters make an escape plan when the fire burns down a slope on Aug. 12.
A tanker makes a drop on the Lake Fire on August 12th.
On August 12, a cloud of smoke rises from the lake's fire.
On August 11th, firefighters tackled the fire at Grizzly Creek near Glenwood Springs, Colorado.
Source link