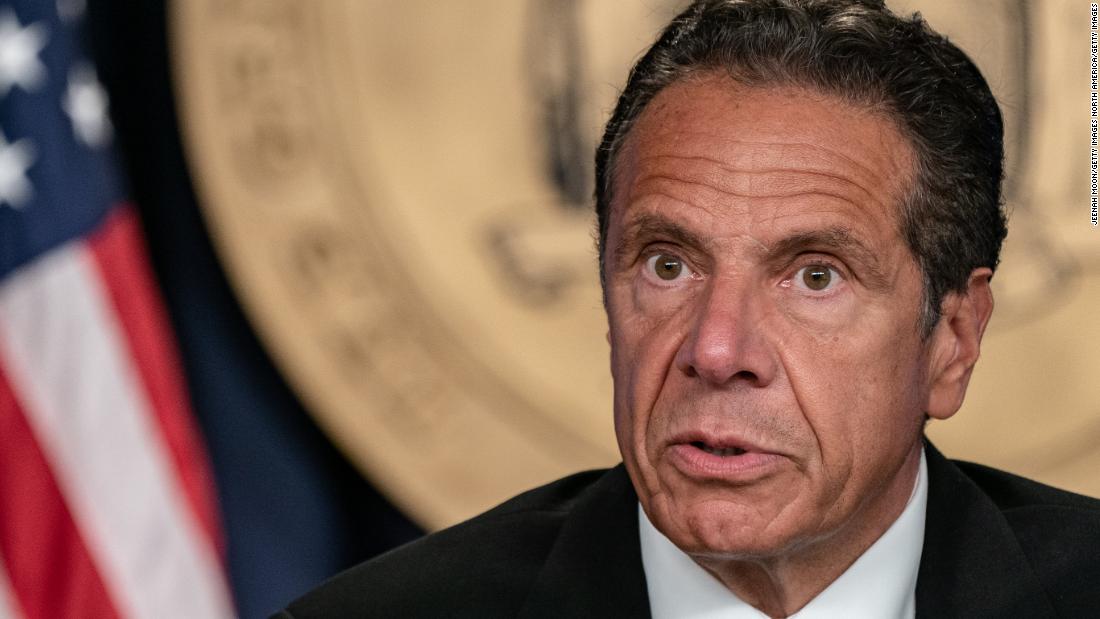 During a press briefing on Wednesday, Finger Lakes News Radio Cuomo asked about his government's advice in late March that nursing homes should accept readmission of patients from hospitals, even if they were positive for Covid-19.
The governor's office has repeatedly stated that the opinion was based on federal guidelines prohibiting discrimination based on a coronavirus diagnosis. The state health department told CNN, "Residents were not admitted to nursing homes as an overflow facility during this time, but because they live there."
Cuomo said the counseling is a precautionary measure when hospitals become overwhelmed – what is known as the "rule of anticipation"
; – which he believes has not happened.
"We never needed nursing home beds because we always had hospital beds," Cuomo told Finger Lakes News. "So it just never happened in New York that we had to say to a nursing home: 'We need you to take this person with us, even though they are Covid-positive.' It never happened. "
Facts first: Cuomo's claim that "it never happened" is wrong. According to a report New York State Department of Health admitted 6,326 COVID-positive residents [nursing home] Institutions "following Cuomo's order that nursing homes accept readmission of Covid-positive patients from hospitals. Whether this was" necessary "or not, it actually happened.
Cuomo's senior adviser Rich Azzopardi responded Thursday after the release, questioning that finding. The governor made explicit reference to the lack of hospital beds. "The governor was crystal clear, he said what didn't come about was the hospital beds crisis, that any projection, especially the federal government's forecasts, would be predicted. That's what he said never happened. Separately, the law was always like that Nursing homes could only accept residents who could care for them appropriately. None of this has changed. "
On March 25, the state Department of Health issued a notice requiring nursing homes to "accept the expedited reception of residents returning from hospitals" if patients are deemed medically stable.
"No resident is allowed to resume or admit to [nursing home] based solely on a confirmed or suspected diagnosis of COVID-19, "the report says."[Nursing homes] Requiring a medically stable hospital resident to be tested for COVID-19 prior to admission or readmission is prohibited. "
This mandate has received much criticism, and Cuomo issued an amendment to the opinion on May 10, calling on hospitals to ensure that patients tested negative before leaving nursing homes.
On May 21, the Associated Press reported, "More than 4,500 recovering coronavirus patients have been sent to nursing homes at risk in New York under the recommendation of the state."
In July, the state Department of Health released a report that found "approximately 6,326 COVID-positive residents were admitted to facilities between March 25, 2020 and May 8, 2020".
There has been much debate over how and if this recommendation contributed to the significant coronavirus death toll in New York nursing homes. The July Health Department report argued that the opinion "may not be a driver of infections or deaths in nursing homes," although many experts disagree, and that the report's conclusion is based on the timing of cases and mortality, it does not as the report confirms, when tracking patient, co-worker, or family members.
CORRECTION: This heading has been updated to correct an earlier version that mischaracterized Governor Cuomo's comments on New York nursing homes admitting Covid-positive patients. The story has been updated to include comments from the governor's office.
Source link