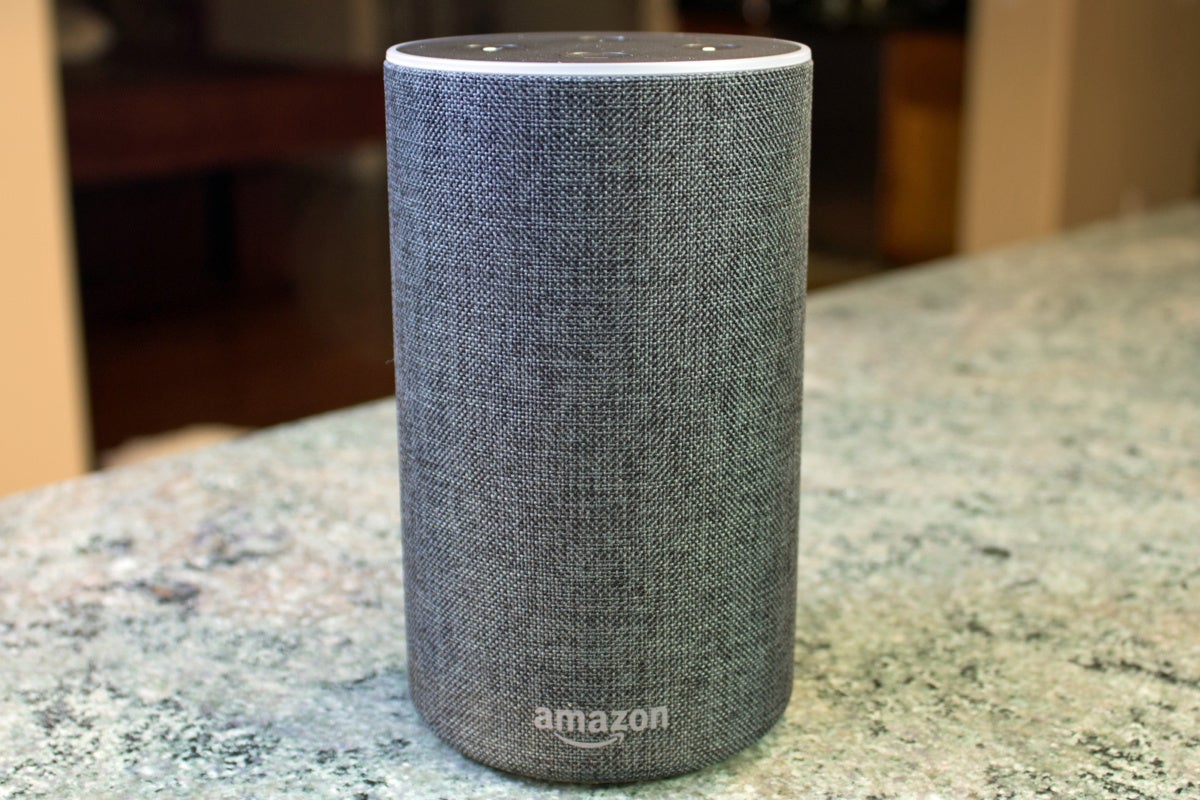 Amazon Alexa is becoming less hospitable to people who prefer to buy music than to sign up for a music subscription service such as Spotify.
Until recently, Amazon Music Storage was the best way to stream your personal music collection to Alexa devices – assuming it was encoded as MP3 files. But last December, Amazon discontinued support for new uploads for the free service. One month later, no paid subscriptions were accepted. In January 2019, Amazon Music Storage completely shut down, so your MP3 collection on Echo devices can only be accessed if you purchased the titles directly from the Amazon digital store.
That does not mean you have no options left. To play your own MP3 files (or other FLAC-encoded music) on the Echo or other Alexa devices, you can continue to use Alexa's Plex or My Media Server, which you can use to stream songs you've saved to another device. Alternatively, you can use the My Pod service to save some songs to Google Drive and access them with custom voice commands. These services are not as comprehensive and easy to use as Amazon Music, but allow you to access your music collection with voice commands.
To resume music playback:
Option 1: Plex Media Server
For Plex to play your music files on an Amazon Echo, you need a Media Server that is always on and running Plex Media Server. This can be a desktop computer (Windows, MacOS or Linux), a Network Attached Storage (NAS) box or an Nvidia Shield TV. Plex currently does not support streaming to Alexa devices from Plex Cloud servers.
Streaming your music in this way is subject to some limitations compared to Amazon Music and other services that do not require Alexa skills. such as Spotify and Pandora:
Music for the entire home area is not supported. So you can only listen to one speaker at a time.
You can not set Plex as the default streaming service and must use a specific syntax. (Either "Alexa, ask Plex …" or "Alexa, say Plex …") that you should play your songs every time.
Plex responses take slightly longer than Alexa's integrated music services.
Album art is not supported on the Echo Show.
Still on board? To set up Plex for Alexa music playback:
1. Open a free Plex account to use the service with Alexa.
. 2 Download Plex Media Server to the device where your music files are stored and follow the installation instructions. During this process, you will be prompted to specify the folder where your music is located.
. 3 Visit app.plex.tv to start Plex from any phone, tablet or computer.
. 4 Select Settings in the left sidebar.
. 5 From the Settings menu in the left sidebar, select Remote Access and then Enable Remote Access. (According to Plex, this is not required if you are running the latest media server software, but it suggests this.)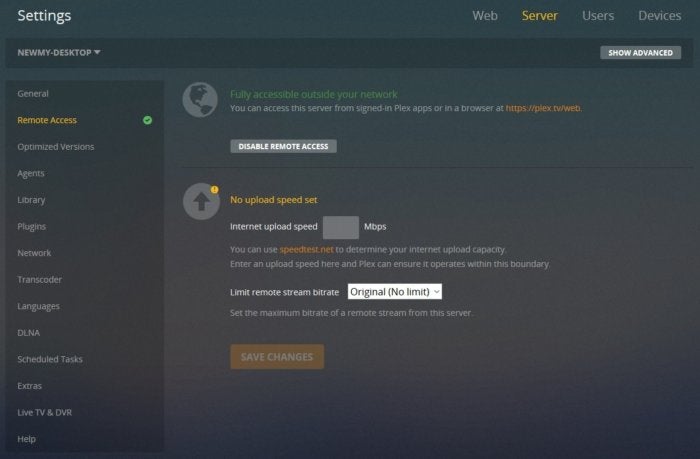 6. If you did not set up your music folder during installation, you will return to the main menu. In the left sidebar, in the Libraries section, highlight Music, press the "…" icon, and select "Edit." Use the Add Folder menu to show Plex where your music files are located.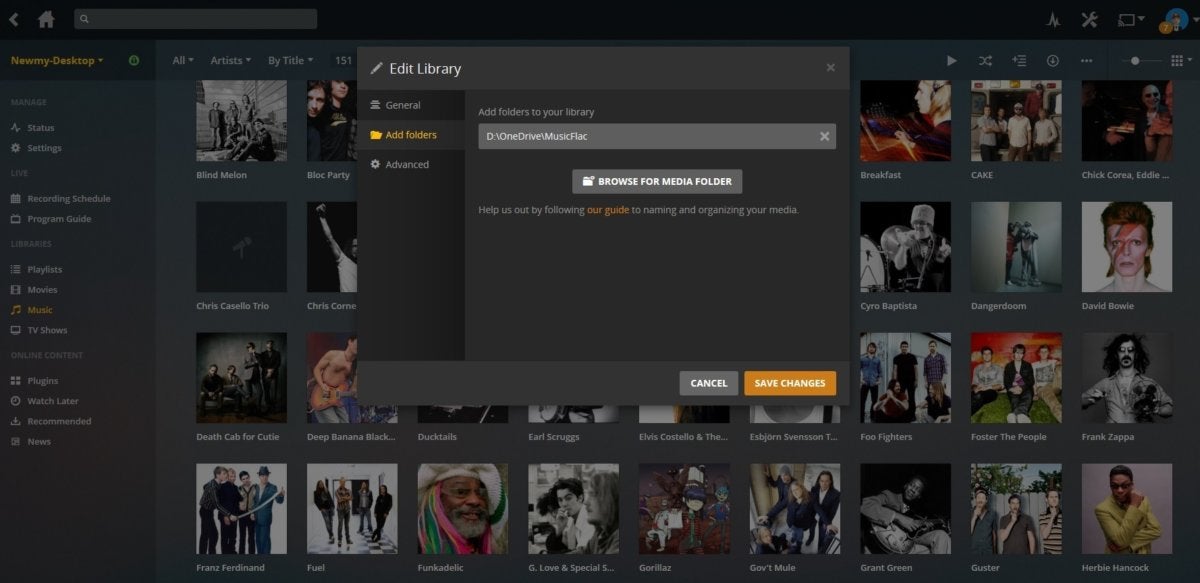 7. After you've set up Plex, either install Alexa's Plex skill directly over the Internet, or search for "Plex" in the "Skills" section of the Alexa mobile app.

8. Log in to your Plex account and then click the "Authorize" button.
. 9 Say on your Alexa device " Alexa, tell Plex to change my server. ". If you only have one server, Alexa automatically sets it. Otherwise, wait for the list of server numbers and answer with the number you want to use.
Now you can use Plex to play your music collection on Amazon Echo. See the Plex Support page for a list of voice commands that you can use. Here are some useful ones:
"Ask Plex to play music from [artist name]"
"Tell Plex that you can play the album [album name]" (This) usually only when you Do not even say the name of the artist .)
"Ask Plex to play the song [song name]"
"Ask Plex to mix the playlist "
"Questions You plex what I should hear. "
" Tell Plex to play some music. "
" Ask Plex to play some fat beats. "
You can also say" Next Piece " "Previous track", "Pause", "Play" and "Stop" without first having to ask "Plex".
Option 2: My Media for Alexa
My media is similar to Plex in that it requires a media server to be echoed to stream your music files. It also has some of the same limitations: all home streaming is not supported, and you'll need to use the specific syntax "Ask My Media …" to start listening.
My Media, however, has some advantages: It can index playlists from iTunes and play music by genre, and there are no issues with playing the Echo Show I had with Plex. (However, the album art is still not supported.)
The service is not free as it is with Plex. You can try it for seven days. After that, it costs $ 5 a year for a single media server and access from up to two Amazon accounts, $ 10 a year for two media servers and five Amazon accounts, and $ 15 a year for five media servers and 25 Amazon accounts.
To set it up:
1. Download My Media for Alexa, run the installation file, and complete the installation process. (If you do not want to start My Media for Alexa Console after the installation is complete, find it in your list of programs and start it to continue setting up in your web browser.)
2. In the My Media for Alexa console, click the green Next button, log in to your Amazon account, and select Allow on the next page.
. 3 Select "No" when asked if you want to automatically download sample media.
. 4 In the left sidebar, select Monitor Folders, and then click the Add Folder button. Select the folder or folders where your songs are stored.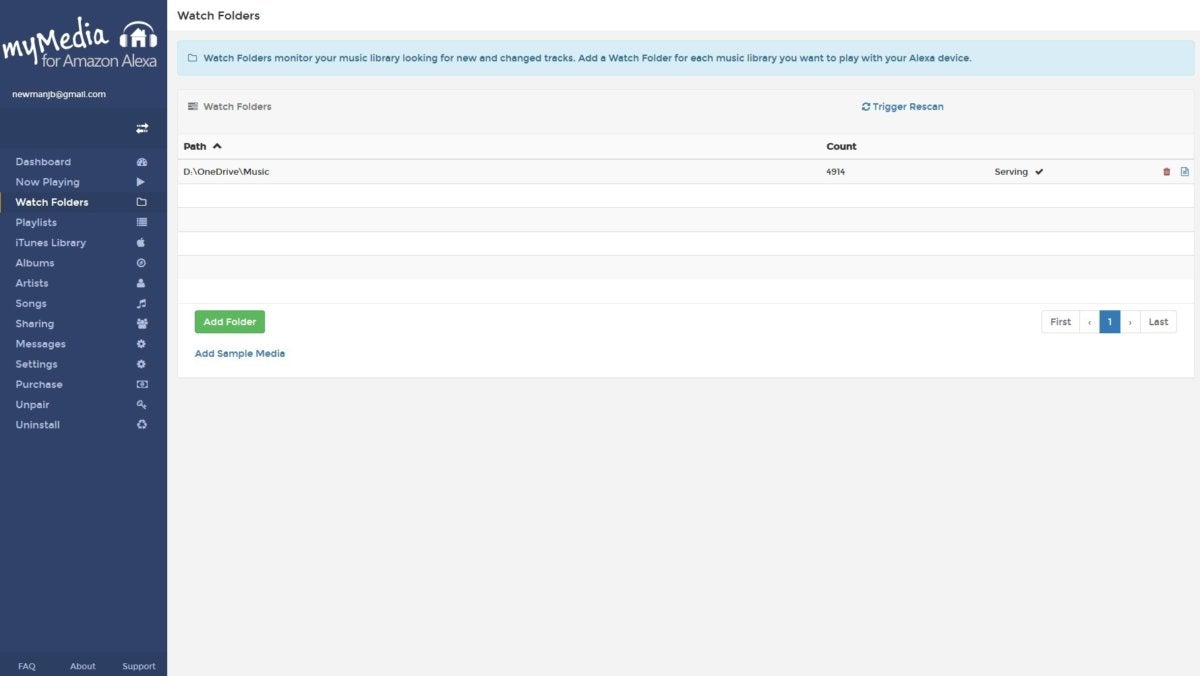 5. Install the My Media skill for Alexa, either directly over the Internet or by searching for "My Media" in the Skills section of the Alexa mobile app.
. 6 Optional: To automatically share iTunes playlists with My Media For Alexa, open iTunes and go to the Settings menu. Click the Advanced tab and select "Share iTunes Library XML with other applications". Return to the My Media for Alexa console, select "iTunes Library" in the left sidebar, and click "Index iTunes Library." Select the folder containing your XML files (usually / Users / [username] / Music / iTunes on macOS and C: Users [username] Music iTunes on Windows).
Now you can use the My Media songs on the echo or play other Alexa devices. Here are some examples of voice commands:
"Ask My Media to play music from [artist]."
"Ask My Media to play the album [album] of [artist]."
"Request My Media to play the song [song] of [artist]."
"Request My Media to play my playlist."
"Ask My Media, [genre] Play Music. "
" Ask My Media to Mix [on/off]. "
" Ask My Media to Spin the Loop [on/off]. "
You Can Also" Next Title " Say "Previous track," "Pause," "Play," and "Play" Stop playback without asking for "My Media."
Option 3: My Pod
My Pod is a simple one Ability to play individual albums or playlists through Alexa using links to Google Drive folders containing MP3 and AAC music files in them. (The support for Dropbox and OneDrive links is "experimental," but it did not work for me either It also works with playlists on YouTube While Pod is not a great way to access your entire music collection, it saves you from setting up a media server.
To set it up:
1. In Google Drive, create a folder for the album or playlist you want and upload your songs. (Note: My Pod only plays songs in alphabetical order.) To change the order of the songs, you must put track numbers at the beginning of your file names in each folder.)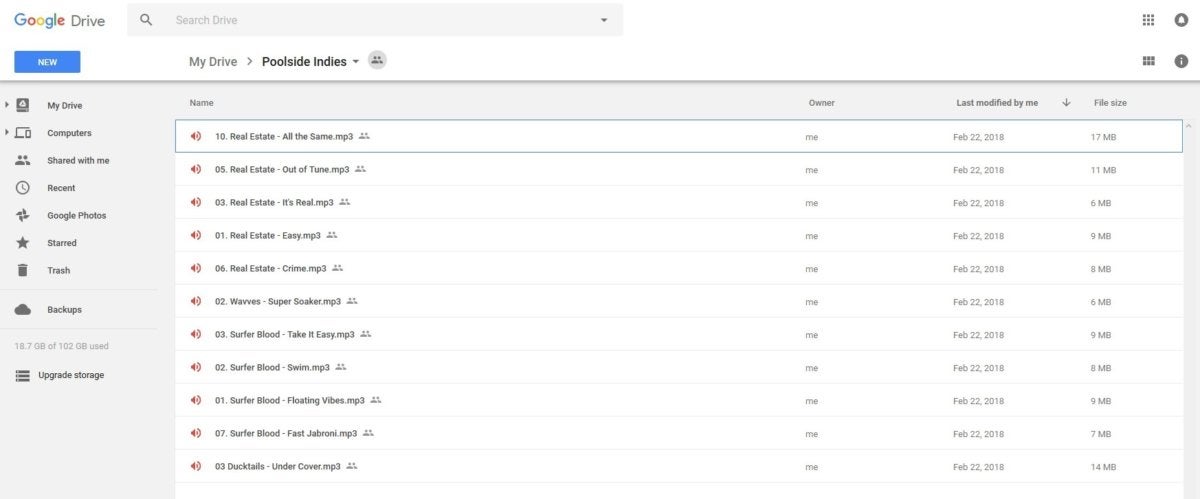 2 , Visit mypodapp.com and select Get started and Sign in to Amazon. Enter your access data and select "Allow" on the next page.
. 3 Under the "Create a playlist" heading, enter the name of the playlist you want to speak when using Alexa voice commands, such as "Funk" or "Indie Rock," and then click "Create."

Source link