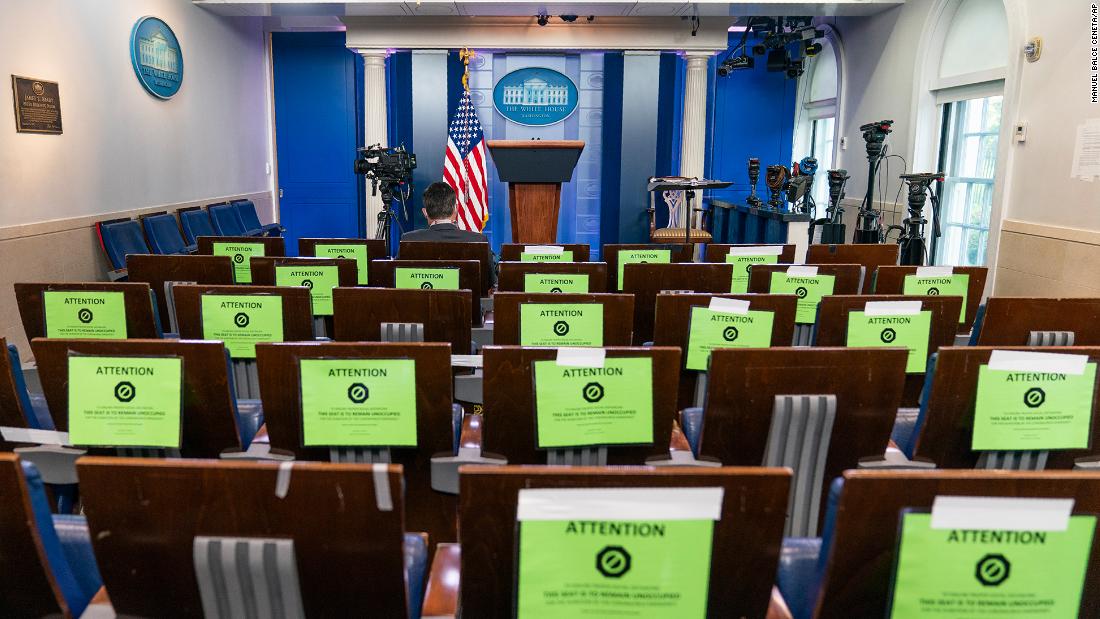 Three journalists working in the White House tested positive on Friday, according to a series of memos from the White House Correspondents Association.
A White House employee sitting in the "lower press" area of ​​the west wing also received a confirmed positive result on Friday morning.
White House reporters and spokespersons work in cramped quarters and often meet the definition of close contact.
As a result, there is now widespread concern among White House reporters about who has been exposed.
The first memo received by CNN Business on Friday said members of the press corps would be notified "so that they can make informed judgments."
;
The late morning memo said that "all other journalists tested today tested negative".
A follow-up message at 1:33 p.m. contained news of another case involving a sick journalist.
"We are writing to let you know that another member of our press corps tested positive for COVID-19 today," the memo reads. "This person was last at the White House on Saturday and then traveled to Pennsylvania on Air Force One. The person had COVID-19 symptoms yesterday."
Saturday marked the day of the White House Supreme Court announcement and President Trump's rally in Pennsylvania. The president announced early Friday that he and First Lady Melania Trump tested positive for Covid-19.
A third memo at 3:35 p.m. stated that a third member of the press corps tested positive.
The person was at the White House last Saturday and Sunday and "developed mild symptoms" late Wednesday.
CNN Business has reached out to major news networks and newspapers to ask about the precautions they are taking.
A Washington Post spokesman said, "We are working to identify postal journalists who may have recently come into contact with White House officials to ensure our colleagues receive rapid and full support."
The Association of Correspondents said: "We cannot emphasize enough the importance of wearing masks, social distancing and common sense, especially at the White House complex."
"In addition," said the board, "we again ask journalists who are not in the pool and do not have an enclosed work area not to work in the White House at this time."
During the Covid-19 pandemic, the Correspondents Association has taken a more proactive position than the Trump administration, encouraging journalists to take precautionary measures while reporting on the administration.
CNN Business's Oliver Darcy contributed to the coverage.
Source link