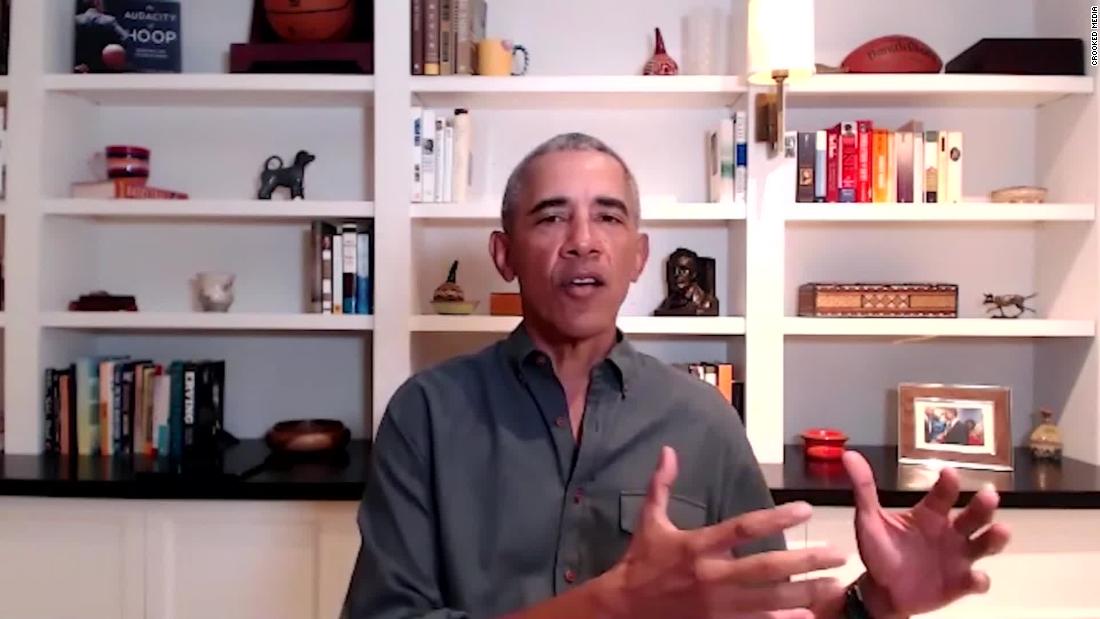 Obama used a lengthy podcast interview with two former aides, Jon Favreau and Tommy Vietor, to ponder his own presidency, announce Biden's candidacy, and offer advice to progressives in his own party. However, the clearest comments in Obama's 45-minute "Pod Save America" ​​interview on Wednesday were directed at Trump.
"It's not like Trump has been that active internationally. I mean the truth is that he doesn't have the patience and focus to really make significant changes to much of US foreign policy," Obama said, adding that the President did this. systematically trying to decimate our entire foreign policy infrastructure. "
Obama argued that Biden would counter this early in his presidency should he be elected in November, saying his former vice president has "respect and understanding for what the American leadership can do"
;.
Obama is expected to go on the road next week after speaking at the Democratic National Convention and a series of fundraisers for the party, Democratic officials said, as he plans to support Biden in the final weeks of the election.
Obama also said he saw Biden's foreign policy growth, noting that Biden "learned a lesson" while the former Delaware Senator voted to approve the armed forces in Iraq in 2002, a vote the became a hot spot during the 2008 presidential primaries. from that.
"He was probably the person who was most reluctant to use military force among my senior advisors during my presidency," Obama said. "He firmly believed that we should show restraint and humility in considering the use of military power, and had great faith and faith in the use of diplomacy as a strategy to demonstrate American leadership."
Obama has tempered his criticism of Trump for years despite the fact that the president has repeatedly attacked the popular Democratic president, even suggesting that he should be charged with conspiracy theories that Trump advanced during his tenure. However, that has changed recently as Obama works to oust the Republican leader.
Obama made it easy for Trump to tweets suggesting he should be charged and directed his disdain at Republican lawmakers who largely ignore those comments.
"Fellow Republicans tend to just pretend it doesn't happen," laughed Obama, joking, as Republicans often say, they "didn't read the tweet."
"They dodge reporters when asked about it," he said. "The allegations are so absurd that even Republican-controlled committees dealing with them have turned them down."
Obama went on to say that Trump's focus on such conspiracies highlights "all the misinformation … and the conservative media infrastructure".
"This is a problem that will outlast Trump. Trump is a symptom of it and an accelerator for it. But he didn't create it," said Obama, arguing that the Rand-QAnon conspiracy theory is "invading the mainstream Republican Party." should show "that there are no longer any guard rails in this media ecosystem."
It was this media ecosystem, Obama said, that helped create Trump, noting that the former reality TV star had said a few complementary things about him in the early years of Trump's presidency, before leaving Fox News and other outlets noted that conservatives turned it on. That, Obama said, prompted Trump to advance conspiracy theory, the idea that the former president was not born in the United States.
Obama concluded the interview with some unsolicited advice to progressives in his party, saying that while progressives should keep moving the party forward, they should also recognize that incremental change is better than no change.
"There's nothing wrong with making noise. And there's nothing wrong with holding people accountable," he said. "I think the caution I always take on progressives is to make sure that at some point you say, 'All right. You know what? Let's do that and then let's go ahead and get one to fight another day. '""
Obama compared this to former President Franklin Delano Roosevelt's drive to get social security out of the way, noting that the law was a "bridgehead" but far from perfect.
"Should the FDR fail social security" because it wasn't perfect, Obama asked. "Of course not. He'll make it and then you'll fight the next battle."
The former president then reviewed two of the most prominent figures in progressive politics, Sens. Bernie Sanders and Elizabeth Warren.
"Maybe I'm different from Bernie and even Elizabeth here sometimes, partly in the way we speak publicly about this stuff," Obama said. "Most of the time when I'm going to be doing something progressive as president, it wasn't because I got a donation from a particular interest or company. … It was because I didn't, I didn't." I have no votes. "
He added, "When I look back on my presidency, the actual envelope, the limit of what I could do, had to do with how many votes I had in the House, how many votes I had in the Senate."
Source link