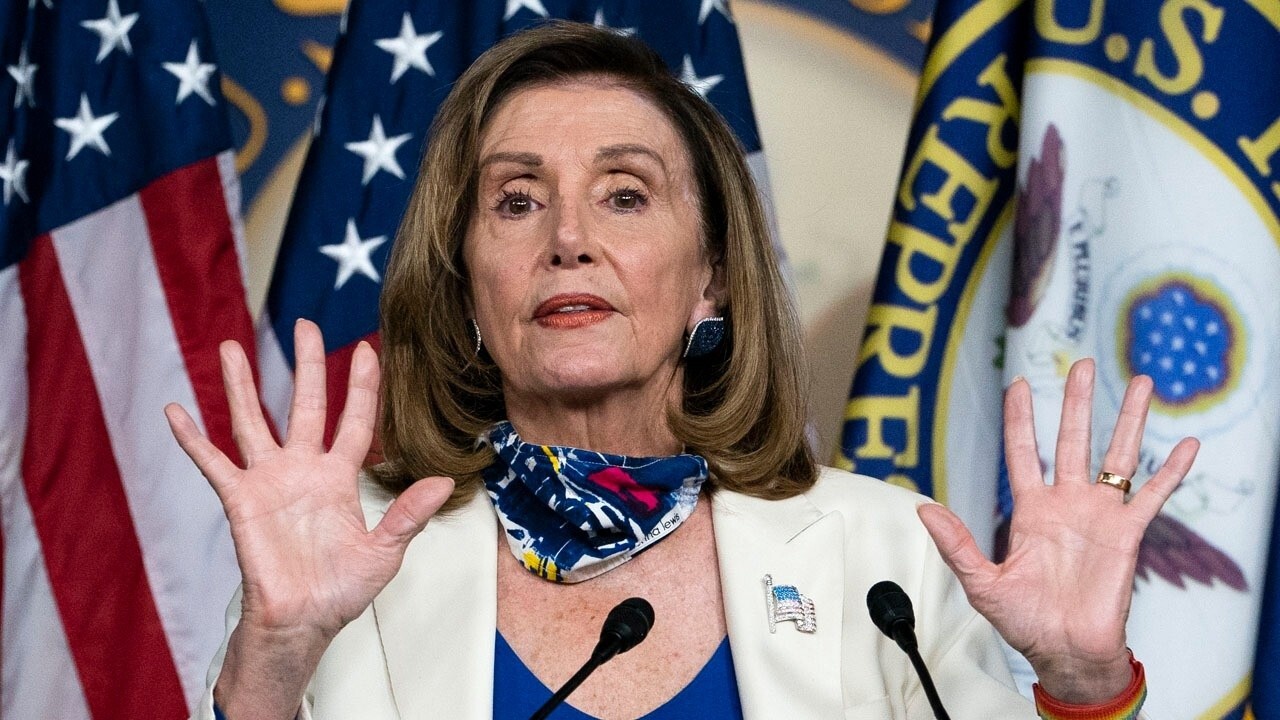 House spokeswoman Nancy Pelosi said on CBS 'Face the Nation on Sunday that she hopes the fact that President Trump has contracted the coronavirus will prompt the White House and Congressional Republicans to revise their stance in the Changing how we deal with the pandemic and "listening to" science "after months of Democrats criticizing the GOP for not taking the virus seriously enough.
"Prayers are with the president and the first lady," said Pelosi, D-Calif. "I hope it will really be a signal that we have to do better to prevent this virus from spreading."
;
Pelosi added that while the president recovers, she worries "what effect it will have on coming to the table with us and doing what we have to do to destroy the virus, listening to the science and to play the public-private role. " must be done to destroy the virus. Hopefully, prayerfully … I pray that in addition to his health, the President's heart will be opened to millions of those affected, hundreds of thousands of families who have suffered a death. "
TRUMP CAMPAIGN SENIOR ADVISER STEVE CORTES SAYS TRUMP 'UPBEAT AND ASSERTIVE' AFTER CORONAVIRUS DIAGNOSIS
As the Speaker of the House, Pelosi is second in line to the presidential succession after Vice President Mike Pence. Both Pence and Pelosi tested negative for the virus this week, and Pelosi said it plans to have regular tests in the future. Pelosi added that while they, Pence, Trump and others have access to great health care, "minority communities" and poor communities do not and are disproportionately affected by the coronavirus.
"Now [the virus has] even run free in the White House. Think about what it is like in a poor area where the president insists that children actually go back to school to get funding, "she said on Face the Nation.
Pelosi added, "The Republicans in Congress and this president were against science … so when science says you should test, prosecute, treat, wear masks, sanitation, separation and the rest, and you don't believe science … then there are more deaths, more spread of the virus … They don't believe in science and don't want to do anything about it. "
WHITE HOUSE CHIEF OF STAFF MARK MEADOWS CONFIRMS THE DETERMINED STATE OF TRUMP ON FRIDAY
Pelosi was also interviewed by Face the Nation host Margaret Brennan about the ongoing debate over whether there should be a coronavirus testing regime for those who work on Capitol Hill, including members of Congress, staff and other workers such as journalists and custodians. This week Chuck Schumer, Senate Minority Chairman, DN.Y., and Kevin McCarthy, R-Calif., Minority Leader of the House of Representatives, again increased calls for regular testing for those on Capitol Hill after several Republican Senators positive for the Had tested coronavirus.
Pelosi and Senate Majority Leader Mitch McConnell, R-Ky., Who are empowered to either implement or block a test regime, prevented such a move because they feared members of Congress would give preference to regular Americans. Currently, only Capitol Hill employees whose medical reason needs to be tested – exposure to someone who tests positive for the virus or who has symptoms – are tested.
Pelosi avoided Brennan's question.
CLICK HERE TO GET THE FOX NEWS APP
"He's got a smaller body than we do on the house side," Pelosi said of Schumer while ignoring McCarthy. "My trust is … with the attending physician in the house who will determine when it is necessary that we need tests that we trust."
The speaker added, "We have 20,000 employees … it's not just about the members of Congress that we want to be safe for the press that covers us and the administrators and the capital workers and the staff."
Brennan replied, "that's why I asked the question," but then said the show would have to pause before Pelosi could respond.
Source link