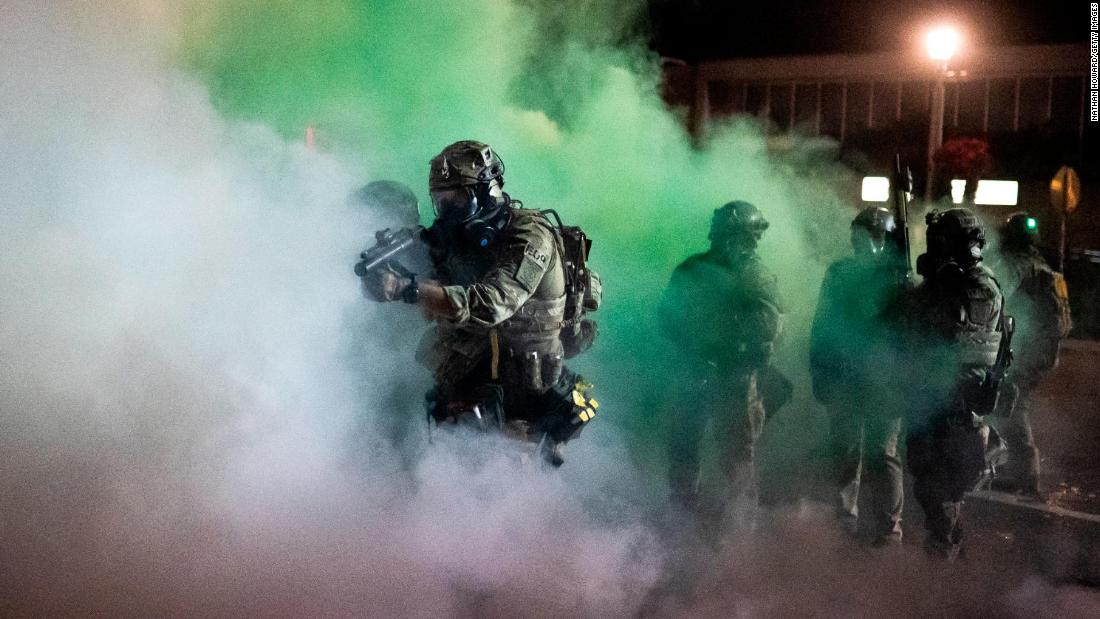 "Everyone deserves to feel safe in their community," wrote Wheeler on Tuesday evening. "But there was more senseless violence in Portland last night."
Wheeler's call comes as both the Oregon Governor and state police announced that they are taking further steps to ensure that people who commit violence are prosecuted.
Governor Kate Brown has called on outside agencies to help fight the riot, while Oregon State Police allow soldiers responding to protests to be represented by the U.S. Marshal Service to make it easier for suspects to be prosecuted if necessary.
"The violent behavior must stop"
Wheeler on Tuesday condemned acts that he said ranged "from stupid to dangerous to criminal".
He said Monday night resulted in the destruction of "another local minority business", police violence and an attack on the building where he lives.
Nineteen people were arrested on Monday, although no one was accused of starting a fire outside Wheeler's house, where protesters had gathered with signs and chants calling for the mayor's resignation.
"Arson and terrorizing families with children are doing nothing but steal and distract from the movement's important message for racial justice," said Wheeler.
"The violence must stop," he wrote. "None of this should go well with a thinking Portlander."
The head of the Portland Police Bureau also condemned the fire, saying local leaders needed to do more to stop the violence.
"This is affecting the safety of our entire city and urgent action is required," said Chief Chuck Lovell, who has held the position for two months, in a statement. "Our elected officials must do their part to draw a line in the sand and hold people accountable."
"In the past few weeks we've seen arson in occupied police stations as well as the PPA office which is hidden in a residential area," Lovell said. "Last night was another escalation of the senseless violence. The families living inside did absolutely nothing to create a threat to their lives."
"The violent behavior must end," added the boss.
Soldiers represented by the US Marshals Service
A plan to end the violence of protest, released Monday by the Governor of Oregon, has been criticized.
Brown announced that neighboring law enforcement agencies and the Oregon State Police would help the Portland Police Bureau respond to the protests. However, at least three regional law enforcement agencies said they would not send their deputies to assist, citing political disagreements and a lack of political support from Portland law enforcement officials.
However, Oregon State Police plan to facilitate the prosecution of suspects by allowing US Marshal Service to represent soldiers involved in protest violence, State Police Captain Timothy Fox said in a per e-mail Mail to CNN statement on Tuesday evening.
"OSP worked with the US law firm to review OSP arrests for possible prosecution of criminal conduct," Fox said. "Most of the OSP resources allocated to Portland were mutually represented by the US Marshals."
Meanwhile, Brown is not only pushing for more support from federal attorneys and the FBI, but is also pushing that the Multnomah District Attorney "prosecute" serious crimes and ensure there is enough prison space so suspects are not released early.
In response, Multnomah District Attorney spokesman Brent Weisberg told CNN, "We continue to prioritize public safety resources in Multnomah County by focusing on the violent crimes in protests and in our community, including the recent and alarming increase in gun violence this summer."
The district attorney announced last month that he would not prosecute protesters charged with non-violence or property damage.
CNN's Anna-Maja Rappard contributed to this report.
Source link